RESIDENTIAL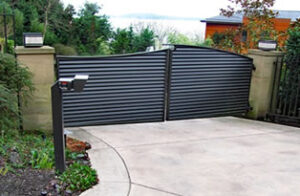 COMMERCIAL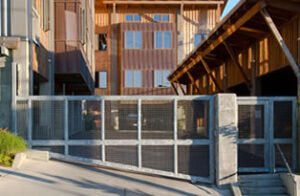 COMMUNITY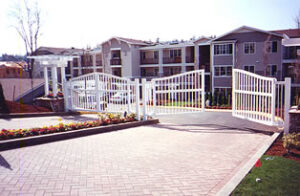 SERVICE & REPAIR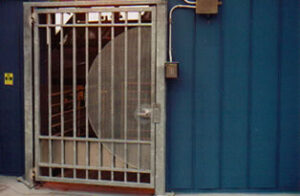 Automated Driveway and Entry Gates in Greater Seattle, WA

Make A Lasting First Impression
An automated driveway gate or access gate can add beauty, security, and value to your home, housing community, business, or government property. With a custom design that reflects your style and an easy-to-use access system, your driveway gate will create a welcoming first impression.
A Gate System Designed to Reflect Your Style
Our in-house design and fabrication departments will customize your gate design to fit your unique style. Whether it's your family crest, a favorite image, your business logo, or something you've doodled on a napkin. Our Seattle-based gate designers make it easy to turn your vision into reality for an entry gate that is a one-of-a-kind creation.
Routine Gate Service and Repair
For the best in automated gate maintenance and repairs, our trained, experienced gate technicians are always just a phone call away. Click to learn more.
24-Hour Emergency Gate Service
Locked in or out of your property? Our trained gate technicians are available 24/7/365 to restore access to your property. Emergency service rates apply. Click to learn more.
"We want to thank you for our beautiful gate…It really does look "snazzy", simple, elegant-all rolled into one. Plus, I feel much safer – even while I'm home."
~ Jane and Neil W., Auburn, WA
Automated Iron Driveway Gates Video
The Best in Custom Gates For More Than 40 Years

Since 1980, families, communities, businesses, and government entities have trusted Seattle-based Automated Gates to deliver the best in custom gates, including driveway gates, entrance gates, pedestrian gates, iron fencing, access control systems, and gate services.
From beautiful security and privacy gates to high-security gate systems, you can see our experience and craftsmanship in the durability and finish details of every gate system. At Automated Gates and Equipment, there are no pre-fabricated or packaged solutions. Your custom gate or iron fencing is carefully fabricated and professionally installed. From start to finish, you'll work with courteous, experienced gate specialists who make it easy to design, install, and maintain a dependable entry gate.
Add beauty, security, and value to your home, community, business, or government property with a beautiful, lifetime gate system.
Call 206-767-9080 today or contact us to talk with a entry gate specialist.