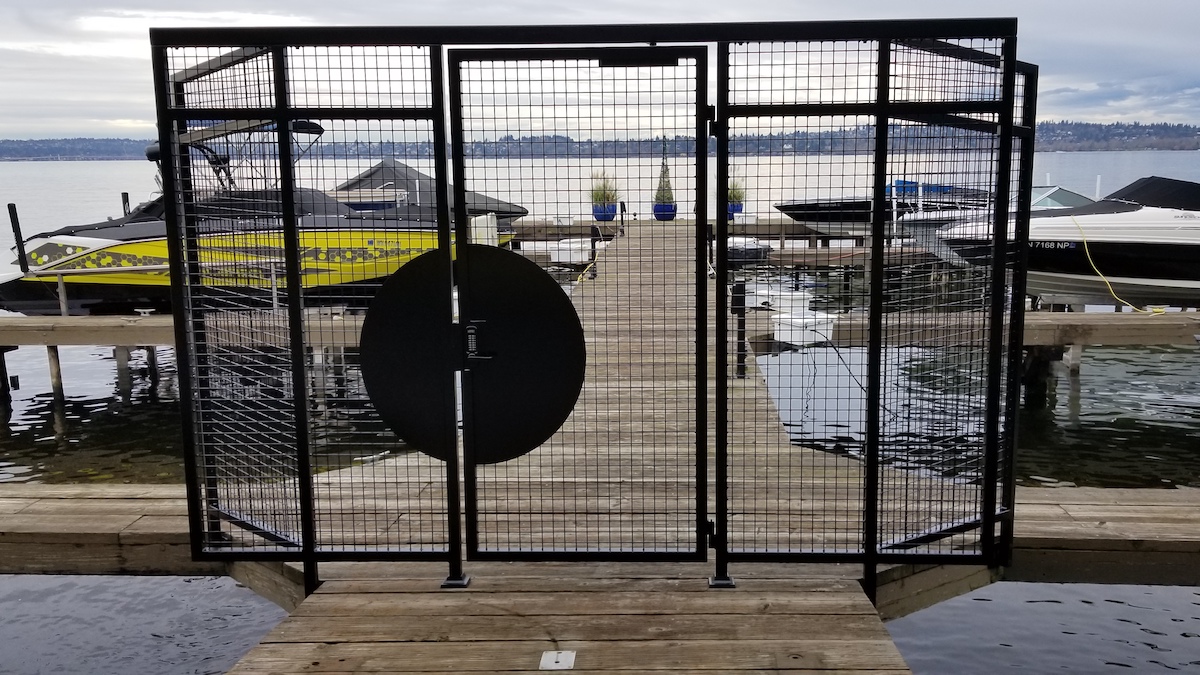 Enhancing Security and Aesthetics – Custom Commercial Pedestrian Gates
Security and efficiency are paramount concerns for commercial establishments. Finding effective ways to safeguard premises while ensuring a smooth pedestrian flow is crucial. This is where custom commercial pedestrian gates come into the picture.
Automated Gates & Equipment works to revolutionize and elevate the security of local businesses. We have served the Pacific Northwest and beyond since 1980 and take pride in the impact our business has made.
Our custom commercial pedestrian gates are highly durable, and we use modern technology and user-friendly features to enhance their functionality. These efforts contribute to the security of our communities and the organizations we serve.
Custom Commercial Pedestrian Gates with Tailored Features for Varied Applications
Urban businesses invest in custom commercial pedestrian gates to reinforce their security measures for visitors on foot. Many security systems often fall short when dealing with a large influx of pedestrians, and tailored designs can prevent these failures.
Custom gates for walkways and entryways are tailored to fulfill the specific requirements of each business, whether it is a parking lot, shopping mall, school, or any other commercial location.
For instance, gates designed for access control might have additional features such as an electric strike locking system that pairs with a keypad or card entry. An optional seven-day time clock offers free passage at a specific time of day. Our highly experienced estimators provide all of our customers with recommendations and ideas to customize their gate in a way that is optimal for their unique location.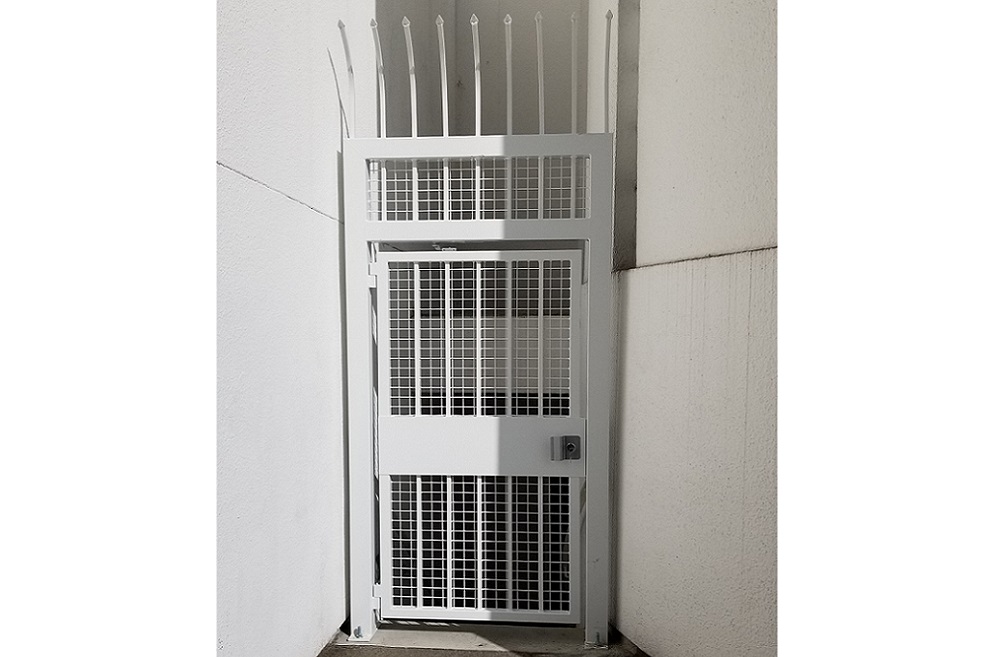 Security, Swing Pedestrian Gate
Design-Enhanced Security
Commercial pedestrian gates are designed to address security challenges effectively and in a variety of ways. Authorized personnel gain exclusive entry with high-tech access control systems such as keypads and heavy-duty locks. Enhanced security is available in the overall design of the gate. For example, an anti-climb strip at the top of the gate restricts unauthorized access. This prevents potential security breaches and ensures a safer environment for both staff and customers.
A walkway gate we designed for Plymouth United Church of Christ in Seattle, WA features a white color that looks bright and beautiful. The strip of curved anti-climb spears looks modern, thoughtful, and secure.
Enhanced Beauty and Brand Expression
Security does not have to be unsightly. We tailor each gate to enhance the aesthetics of a business, by incorporating a wide variety of design ideas.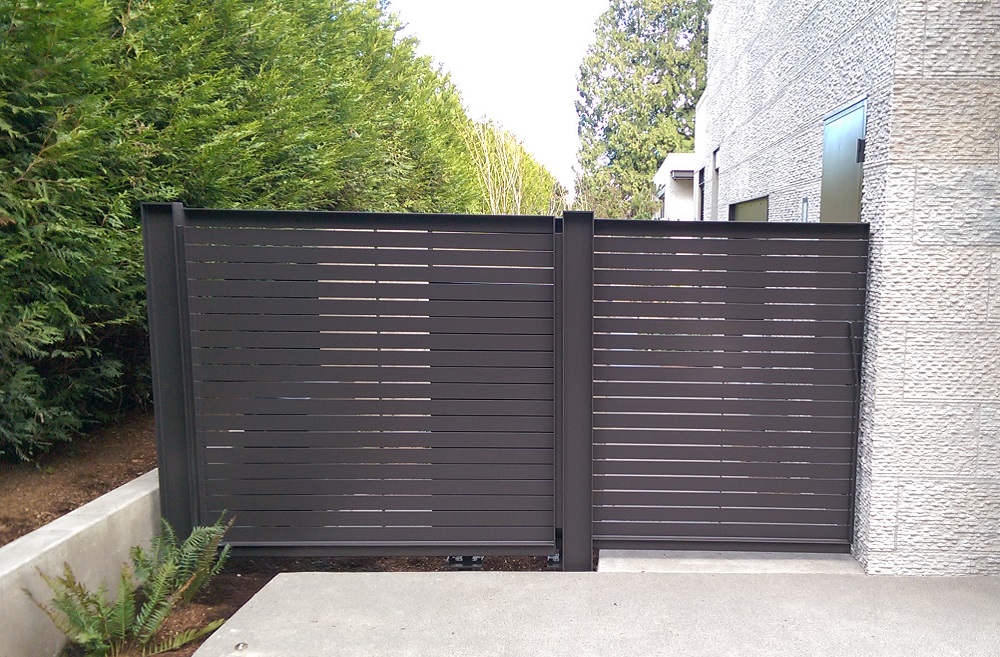 Sleek, Cantilever Pedestrian Slide Gate
Custom commercial pedestrian gates are ideal for businesses with a unique landscape or an aesthetically elevated brand. We enjoy getting creative with our customers and seeing a final result that is stunning and representative of the wonderful businesses. Our talented designers and highly skilled technicians are always thrilled to take on unique projects.
For example, this sliding cantilever commercial pedestrian gate we created for Toth Construction in the Seattle Area tailor fits the sleek aesthetics of its brand. The walkway gate also provides a good amount of privacy and ensures a professional appearance.
Durability and Low Maintenance
Commercial pedestrian gates are built to withstand heavy daily usage and harsh environmental conditions. Made from high-quality materials such as stainless steel, sturdy lumber, and iron, they offer unparalleled durability. Additionally, their robust construction requires minimal maintenance, making them a cost-effective long-term investment for businesses.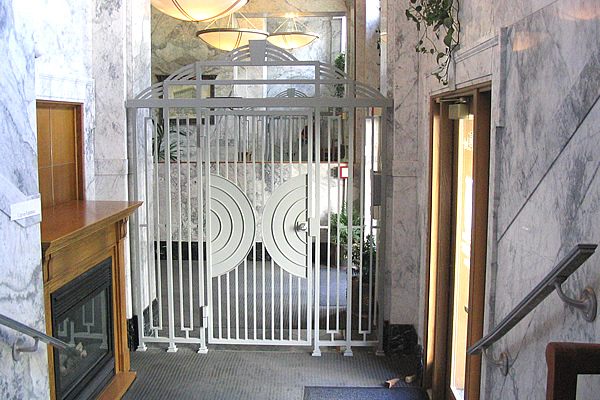 Artistic Yet Secure, Custom Walkway Gate
Enhancing Security and Aesthetics Takeaways
Commercial pedestrian gates represent a significant step forward in ensuring security and efficiency in commercial environments.
Custom commercial pedestrian gates offer holistic solutions for businesses seeking an effective and low-maintenance method to regulate walkway and entryway access, while maintaining a professional appearance.
Are you interested in a pedestrian gate for your commercial property? Then, browse our gallery of completed Commercial Pedestrian Gate Projects, or call (206) 767-9080 to speak with an experienced gate/access control specialist.