Beauty, Service and Security for a Lifetime
Entry Gates from Automated Gates & Equipment company are an excellent source of security and value enhancement for your home. Automated Equipment, Co. is a single source of everything you need for beautiful, custom entry gates – from initial original design, to fabrication, to installation, to a great variety of control options, to maintenance and service.
You'll find that we easy to work with, friendly and knowledgeable. We'll be happy to start with your ideas and share our own, along with a lot of practical experience that can be of value to you.
With both residential and commercial purchasers, we're pleased to work in concert with architects, industrial designers, contractors, project engineers and purchasing agents as well as the ultimate user.
We guarantee your satisfaction.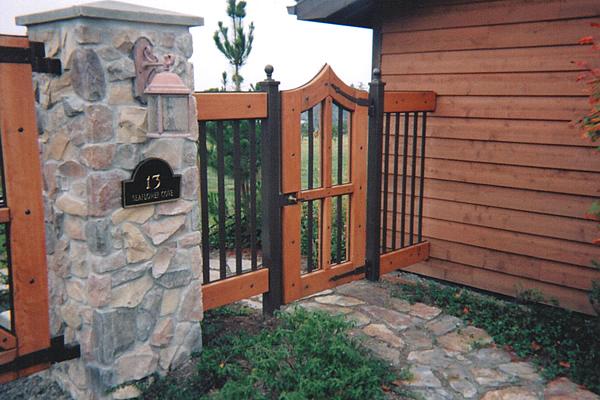 Design is the Heart Of It
At Automated Gates & Equipment Company expert design work assures both form and functionality in every gate, whether it graces a garden or is the striped barrier arm that goes up and down a thousand times a day in a parking garage.
We work with you to create gates of beauty and originality that reflect your taste and can incorporate personal preferences such as a family heraldry, the work of noted artisans, or favorite artwork or themes.
And that adds significantly to the convenience, appeal and value of your property.
We are Experts at Making and Installing a Good Gate
It takes more than specialized machinery to create superb gates that last for years and work properly. It takes craftsmanship. And that demands skilled people with years of training and experience, and an attitude that "good enough" is not good enough. Run your hand over the smoothly finished metalwork of a gate from Automated Gates & Equipment Company. Look carefully at the strength of every part. Check to see how it hangs, how meticulously it's balanced as you swing it open. Step back and admire its beauty, which may have been enhanced by intricate laser cutting or hand forging of artistic elements.
Every member of the team, from electricians, to construction and installation specialists, to our welders and assistants believe that construction and installation details make a difference. This enables us to create a gate you can be proud of.
Taking Care of Gates and Their Owners
Gates from Automated Gates & Equipment Company are built to last and be trouble-free. Many of our installations, depending on location and usage, also are covered by a strong warranty. (Ask for the details). For every gate installation we offer on call service, 24 hours a day, seven days a week for virtually any repair.
To keep your gate installation in good order, we also offer a variety of maintenance services at a reasonable cost. Equipment upgrades are available too, in case your needs change, or you want to keep up with current technology such as home automation.
Solutions for Business, Industry, and Government
Automated Gates & Equipment Company is the Northwest's most sought after resource for organizations and institutions requiring gates and equipment for access or revenue control.
We design and build systems for controlled gates in installations ranging from airports, to truck parks, to refineries, to commercial or employee parking lots, to correctional institutions, and more – anywhere that security, durability, functionality, and reliability are high priorities.
We're available to consult with our client' representatives, including architects, engineers, contractors, and purchasing authorities to help met both straightforward or unusual design, control, or installation tasks, with cost-effective solutions.
We respond quickly and comprehensively to requests for proposal, invitations to bid, or informal queries for information.
Contact us today to talk with an automated gate specialist for your home, commercial property, or community.