Beauty, Service and Security for a Lifetime
Iron driveway gates in Seattle? That's right. If you're looking for a selection of iron driveway gates in Seattle, Automated Gates & Equipment Company of Seattle is a single source of everything you need for a beautiful, custom entrance or access gate – from initial original design, to fabrication, to installation, to a great variety of control options, to maintenance and service.
You'll find Automated Gates & Equipment Company easy to work with, friendly and knowledgeable. We'll start with your ideas and share our own, along with a lot of practical experience that can be of value to you.
Whether you want an entrance gate for your home, multi-family community, commercial or municipal property, we're are happy to work in concert with you and your architects, industrial designers, contractors, project engineers and purchasing agents.
We guarantee your satisfaction.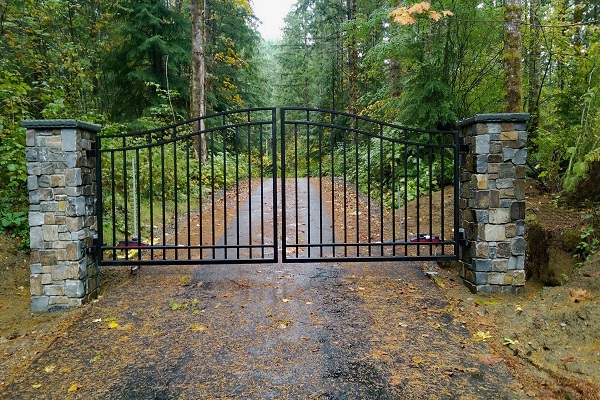 Design is the Heart Of It
At Automated Gates & Equipment Company, expert design work assures both form and functionality in every iron entry gate, whether it graces a garden or a busy commercial property that opens and closes a thousand times a day.
Our computer-aided design (CAD) technology assures precision tolerances. Skilled craftspeople make well-engineered iron gates that fit perfectly, open and close smoothly, stay sag-free over time, and last for years.
We work with you to create gates of beauty and originality that reflect your taste and can incorporate personal preferences such as a family heraldry, the work of noted artisans, or favorite artwork or themes.
When it comes to design options, you have a world of choices with a gate from Automated Gates & Equipment Company.
And that adds significantly to the convenience, appeal and value of your property.
Solutions for Business, Industry, and Government
Automated Equipment Company is greater Seattle's most sought after resource for organizations and institutions requiring driveway access control.
We design and build automated gates systems for business and employee parking lots, airports, truck parks, refineries, correctional facilities, and more – anywhere that security, durability, functionality, and reliability are high priorities.
We're available to consult with our client's representatives, including architects, engineers, contractors, and purchasing authorities to help met both straightforward and unusual design, control, or installation tasks, with cost-effective solutions.
Contact us for a quick, comprehensive response to your request for proposal, invitation to bid, or informal query for information.
About Controls and Equipment
We're proud to be able to offer the leading national brands of control equipment for every kind of home, community, commercial, and industrial requirement. We're free to recommend the best equipment for your application and use, and your choice is never limited to favored or "house" brands. We're happy to guide you to the best values, too.
Our state-of-the-art access control equipment is also a frequent choice of security contractors, access control companies, and home automation installers.
When your system keeps out intruders, keeps the dog in, opens automatically when you drive up, turns on the lights in the den, turns off your alarm system and plays your favorite CD as you come in, you'll have a new view of the possibilities today's technology can offer.
Contact us today to talk with an entry gate specialist about a gate for your home, community, or business.